Hope in Motion
June 22 @ 7:00 am

-

2:00 pm


New This Year!
Walk, Run or Ride. This year's expanded event features walking, running and cycling routes. Participants choose to walk or run our chip-timed 1 mile or 5k routes, or cycle our 7-mile, 23-mile or 40-mile bicycle routes. Staggered starts allow each participant to choose their activity of choice and still meet up at the finish line to celebrate together.
Fundraise. Every Hope in Motion participant must meet their fundraising minimum* in order to participate. That can be done by purchasing the "Buy it Now" option below, or setting up a fundraising page! Together, we'll raise $100,000 to help support Minnesota adults facing cancer and their families. Don't let the fundraising scare you away! It's easy and we are here to help. We promise.
Celebrate. Let's honor that amazing thing you just did together at the finish line. Expect lunch, live music, youth activities and more. You'll also receive the official event tech T and a finisher's medal. As a fundraiser for Angel Foundation, you've earned it!
Shine. Are you a cancer survivor? If yes, then you are one of our STaRS! You are a Survivor, Thriving and Radiating Strength! Join us to be recognized and inspired. You'll also have the chance to network with fellow survivors who understand your journey.
Honor. Memorialize those we've lost to cancer. The grief never goes away, but coming together in tribute creates a legacy that lasts forever.
Together, we can put Hope in Motion! 
Team Fundraising Incentives: Teams that collectively raise $2500 or more earn a team tent during the Finish Line Festival! We pop up a 10 x 10 tent and label it with team signage; you make it your own with decorations, camp chairs, any extra food and beverages you want, etc. Get creative – the sky's the limit!
Individual Fundraising Incentives: Raise $500 or more as an individual and receive the Hope in Motion jersey! Choose from the official event jersey or the special edition STaRS survivor jersey! Hit the $500 mark by May 15 and receive your jersey in time to wear it on event day! If you reach the $500 mark after May 15, you'll receive your jersey 4-6 weeks post event.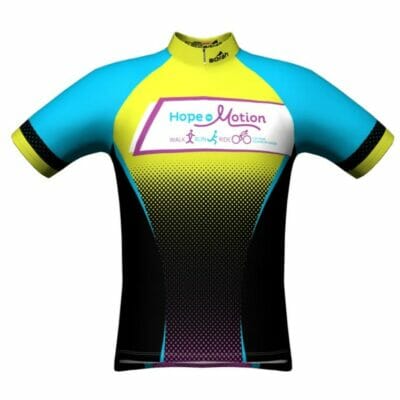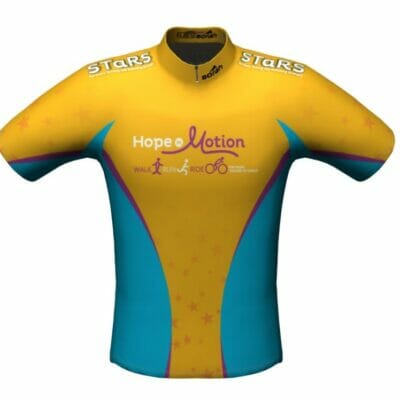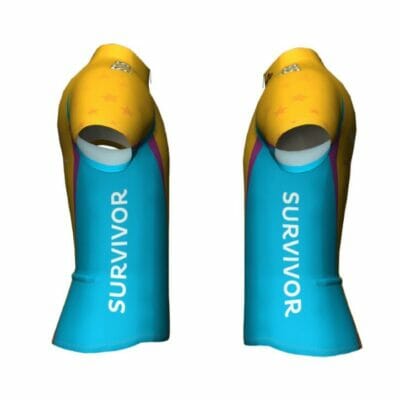 Fundraising Minimums:
Adults (Ages 18+): $100
Youth (Ages 17 & Under): $25
Little Tykes (Toddlers/Infants in strollers, Burleys, etc): $0
Family (Max 2 adults, 3 kids; all live at same address): $250
Large Family (Max 4 adults, 6 kids; all live at same address): $500
Day of Event Schedule:
7am – Event opens; onsite packet pick-up begins
8am – 40-mile bike start
9am – 23-mile bike start
9:30am – 7-mile bike start
9:40am – walk/run start
10am-2pm – Finish Line Festival with lunch, music, massages, youth activities, beer garden and more!
2pm – Event ends
*Please arrive at the event at least 45 minutes prior to your scheduled start time.
**You must be lined up in the start line chute with your bib number attached 15 minutes prior to your route start time.
Event Day FAQs:
Q: Can I register on event day?
A: Yes! Just be sure to arrive at least 1 hour prior to your route start time and to bring your registration fee and fundraising minimum. Please be prepared to pay via check, credit card or cash with exact change.
Q: Can I switch my route?
A: Yes, just show up for the start time of the route you wish to participate in. If you are switching participation types (from walking/running to cycling or from cycling to walking/running) you will need to ask for a new bib to be assigned to you at check-in. Walkers and runners have different bib number sequences than cyclists as well as different RFID tracking devices.
Q: Where should I park?
A: There is ample free parking across from Sky Hill Park thanks to our friends at Blue Cross and Blue Shield of Minnesota. There is no parking or drop off allowed in the parking lot of Sky Hill Park; cyclists will be riding in that area. Please make sure to follow all signage when approaching the park both in car and on foot; never duck under barricades. View our site map for more details. Thank you!

Q: When is the party?
A: 10am-2pm. Please plan accordingly to enjoy lunch, beer garden, vendors, STaRS survivor tent, youth zone, live music and more!
Q: Do I need to fill out a waiver?
A: Yes. Every participant, including those who purchased spectator passes, needs to come through the registration area to fill out a waiver. This is also where you get your bib number, chip timer and any coupons your participation type includes (lunch, beer, wicking T). There will be separate lines for packet pick-up for pre-registered participants versus day of event registrants. Be sure to follow the signs. Printing your waiver ahead of time and bringing it with you will expedite your registration/check-in process.
Q: How will I find things at Sky Hill Park?
A: Use our site map to locate everything you need. If additional help is needed, visit our info booth.
Additional questions about the event or fundraising?
Contact Janeece Oatman at joatman@mnangel.org!
---