Angel Foundation's Facing Cancer Together Teen Mentor program provides a leadership opportunity for teens (15-18), who have attended Camp Angel as a teen. Teen Mentors will be introduced to the field of human services, as well as provide experiences in groups with children and their families who have been struck by cancer.
Starting January 2018, the Teen Mentor program will be limited to 10 spots. Submissions must be submitted by March 1st, 2018.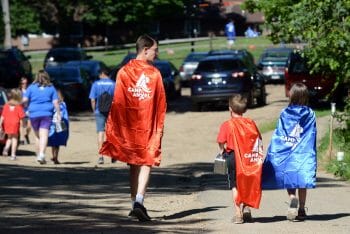 Two teen mentor trainings will take place prior to Camp Angel in June – dates to-be-determined. Teen Mentors will also be asked to partake in two of three Spring Teen Outreach program prior to Camp Angel in June. If the candidate can only attend our August camp they will still be required to attend all Teen Mentor trainings but can opt for the July Teen Outreach event to fulfill their two Teen Outreach attendance requirement.
To be considered to be a Teen Mentor, you are required to go through the application and selection process.
Teen Mentor Program
Application, Selection & Training session
Angel Foundation office
1155 Centre Pointe Drive, Suite 7
Mendota Height, MN
To receive an application, contact Sarah Manes at smanes@mnangel.org or 612-627-9000 ext. 508.