---
Angel Foundation is excited to utilize BidPal technology at our fundraising events.  BidPal allows guests to bid, donate and buy in an easy and fun way. Everything takes place on your smartphone and can be done from anywhere at the event- giving you more time to socialize and enjoy yourself!
This guide is meant to help you understand how to use BidPal at Angel & Eagles and to see how the technology will be used throughout the event.
Registration:
An Angel Foundation staff member or volunteer will ask for your name to locate your profile in BidPal
He or she will confirm that your email and phone number are correct

The phone number on your profile must be your cell phone number
If you and a guest plan to be on the same bid number (for example, a husband and wife would likely want to be on the same number), your profiles should already be linked in our system, however it is important that both of your cell phone numbers are entered in the system

You will be asked to swipe a credit card at registration

This allows you to participate in the various course games, the silent auction and games during the cocktail hour and reception. It also speeds up the checkout process at the end of the night
You are required to have a credit card on file to participate, but this card will not be charged unless you purchase something

If you would like to pay with a different card, multiple cards, cash, or check at the end of the night, you may do so
Using BidPal:
After checking in, you will receive a text from BidPal containing a link to our event profile (If you do not receive a text, go back to the registration table for help)
Each link is personalized to your bid number (and credit card!) so it is important that you do not share the link with others
When you click the link, you will see your home screen, which will look something like this: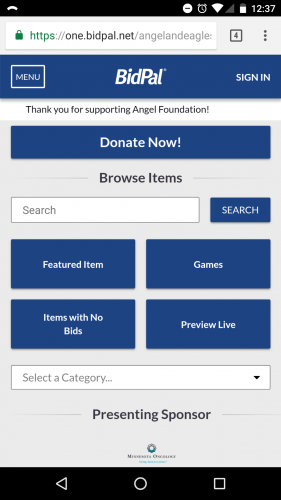 As you can see, from this screen, you can search for an item by item number, view the games, view items with no bids, and view a specific category of items.
Playing Course Games:
As you golf, you will come across various games that you can pay to play. Payment for these games will be handled through BidPal. To make a purchase, select the "Games" button from the home screen, select the game you wish to play, select the quantity, and confirm your purchase. There will be volunteers on each game hole that can help you with this. As a reminder, at the end of the day, you can choose to pay with cash, check, other credit card(s) or a combination of methods. You don't have to charge everything to the credit card you have on file.
This is how games during the cocktail hour will be paid for as well.
Bidding on an Item:
Once you find an item that interests you, click on it for additional details, including a description, the value, the starting bid (or the next bid amount if a starting bid has already been placed), and more: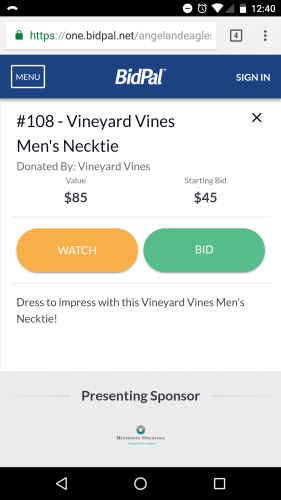 Click the green "Bid" button to bid on an item

You can bid the minimum amount to become the highest bidder or a larger amount

After you submit your bid, you have the option to set a maximum bid

With a maximum bid set, BidPal will automatically bid on your behalf whenever you are outbid until your maximum bid is reached
You will be notified whenever you are outbid on an item

If you aren't sure if you want to bid on an item but want to check back on it later, press the yellow "Watch Item" button

This bookmarks the item on the "My Items" tab (Located on the top right of the screen) does not place a bid
The button will then change to say "Stop Watching Item", which you can press if you no longer want it bookmarked
During the Evening Program:
The live auction will be the same as in the past, with you raising paddles to bid

If you purchase a live auction item, a staff member or volunteer will confirm the charge and add it to your BidPal account

During Fund a Need, you will be asked to hold up your paddle when you choose to make a donation

As the Fund a Need occurs, Angel Foundation staff and volunteers will be tracking your bid numbers and adding your donations to your BidPal accounts – you do not need to do anything on your phone at this point.
Remember, you do not need to pay for your live auction items, Fund a Need, or anything else with the credit card that we have on file – you can pay with a different card, multiple cards, cash, check, or with a combination of methods.
Item pickup and checkout:
Visit "My Items" (in the top right corner) to review everything that you have purchased throughout the night

Please see an Angel Foundation staff member or volunteer at checkout if there are any discrepancies
From here, you can email yourself a receipt

This does not charge your card- Angel Foundation staff will process credit card payments after the event ends

If you would like everything listed under "My Items" to be charged to the card that you swiped at registration, you can proceed directly to pick up your items

If you would like to use a different card, multiple cards, a check, cash, or a variety of types of payments, please see a staff member or volunteer at checkout to adjust your payment method before picking up your items
If you would like to learn more about how BidPal works and what the webpage will look like, please visit http://www.bidpal.com/how-to-bidpal/. Please note that not everything in the video is applicable to Angel Foundation or Angel & Eagles.